Merry Christmas 2017! I would like to wish you all the very best wishes at this time of year.
Thank you all of you that have visited my blog and made it a pleasure to write for you. I can't believe that Santa will be here soon. It has been quiet in the Organic Garden but I was out today gathering herbs for the Christmas Stuffing which is famous in my family.
The Snapshot and Snippets Stuffing recipe
Ingredients
Gluten-free Breadcrumbs
2 onions diced
3 Garlic Cloves crushed
150g Butter
Parsley
Sage
Thyme
The How to Bit
Preheat the oven to 180°C/350°F/Gas Mark 4.
To make the stuffing, melt the butter in a large frying pan and add the onion.
Sauté the onion for 3-4 minutes until softened and translucent but not coloured.
In the meantime, put the breadcrumbs and herbs into a large bowl, ensuring the herbs are mixed through, and season to taste.
Pour the heated butter and onion over the breadcrumb and herb mixture and place in a preheated oven for 20-25 minutes until golden.
Remove from the oven and serve immediately.
If you are using this stuffing for Turkey please ensure the stuffing is cooled down before placing it in the turkey cavity
Tip: If you find it is a little dry I mix in some vegetable or chicken stock to make it moister 
How to Grow your Own Stuffing Herbs
Thyme
 Thyme is a classic herb that thrives in containers. It comes in a range of varieties, including the aromatic lemon thyme and the common thyme, which is used for cooking, and it can be used as a stuffing, rub, or sprig in your Christmas dishes like this  
Venison and Red Wine Casserole
. Thyme grows best when it is kept pruned, which is good news for chefs, as it means we always have a fresh supply of the herb.
Thyme, it may surprise you to learn, has its place in not just the main course, but also dessert. While it is a crucial component in preparing your bird, thyme also adds an interesting twist to pies and tarts. Try a thyme apple crumble this year, and don't forget to add thyme to your roast vegetables and stuffing.
3. Sage
The third herb in the poultry trifecta is sage. This aromatic herb, like thyme and rosemary, grows well in containers and is an essential part of your Christmas feast. Sage is a potent herb (a little bit goes a long way), and its soft, velvety leaves add a nice touch to your indoor décor.
Use your sage to flavour your turkey, and then try your hand later on in the season at some herbed bread. Sage is the perfect herbal accompaniment for fatty meats like duck and pork, too, so your container herb won't go to waste once Christmas is over.
4. Parsley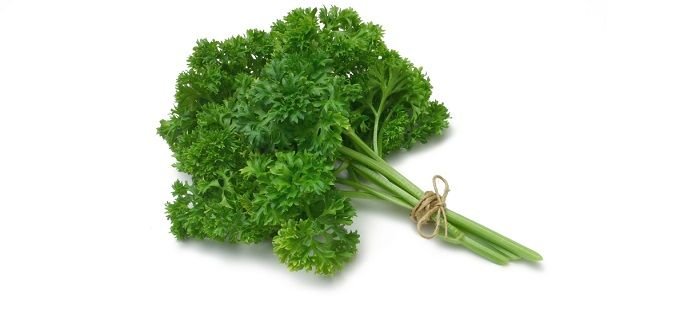 In case you don't already have "Scarborough Fair" stuck in your head, let's add parsley to the list of herbs you should be growing in your kitchen this winter. Parsley, sage, rosemary, and thyme are all indispensable Christmas herbs, and parsley is just as versatile as the others.
Parsley has a long tap root, so be sure to plant it in a container that is at least 6 inches deep. You will also want to apply a half-strength Organic fertilizer once a month to keep your parsley green and healthy.
If you plant some next Spring just think you can be picking your own stuffing herbs for Christmas and trust me they taste amazing.
I hope you have enjoyed all the tales from the garden and the food we eat because of it and you will join us again in 2018 for more Organic gardening and more Organic recipes.