Why should you grow Fennel? Fennel is worth growing for its pretty foliage alone, but fennel also offers the bonus of its delicious, white, aniseed-flavoured bulb and is loaded with vitamins to boot. Fennel (Foeniculum vulgare) is a plant in the carrot, celery, and parsley family. Grown mostly in the Mediterranean. It is an aromatic herb that has been widely used as a spice and a medicine.
But How to Grow Fennel – is the question?
It's a little tricky to grow Fennel but definitely worth a try. It has a relatively short growing season and will be ready to eat in four months.
Sowing your Fennel
Fennel is a Mediterranean crop that will get confused and bolt if exposed to fluctuating or low temperatures. So, for me it's typically something I only sow in the summer months.
Fennel needs to be harvested once ready too, so there's no point in sowing too much of it. A couple of succession sowings between late May amid-July is your best bet.
Fennel seedlings are very sensitive to root disturbance – sow a couple of seeds in each module of a seed module tray about 1cm deep. If more than one germinates in each module, remove the weaker one.
Growing Fennel
About a month after sowing and when the seedlings are hardy, it's time to plant them out. If the temperatures are still low outside, you can delay planting by a few weeks by potting them into individual pots. Which we pop into the cold frame.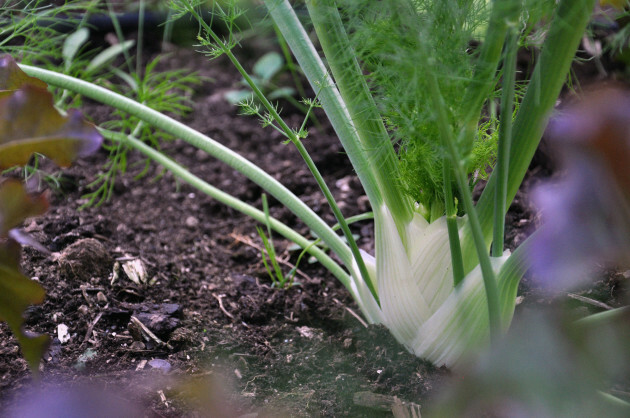 Source: Jorge Luis Zapico/Flickr Creative Commons
Harden off the seedlings well before planting out. Grow in full sunand as they are tall, at the back of a bed. Add well-rotted manure or compost to the soil in late spring. Space the plants 35cm apart. Water, mulch and weed.
If you want a snow white bulb, earth up the stems as they swell to keep them white and sweeten them.
Harvesting
Expect bulbs to be ready 14-16 weeks after sowing (the bulb should be 7cm across).
Cut the bulb off at ground level. Further, feathery shoots will appear which can be used as celery/dill-flavoured seasoning in the kitchen.
Snip the leaves off the bulb – if you leave them on, they draw the moisture out of the bulb. The bulb is best eaten sweet, ripe and fresh but it will also keep for several days in the fridge.
Recommended Varieties of Fennel
Rondo F1
Perfection
Romanesco.
Fennel Problems
Slugs love the seedlings to protect them check out my organic Slug guide
Cold spells and dry weather will cause bolting.
And Carrot Root fly are attracted to them
What are the Health Benefits of Fennel
The health benefits of fennel are varied -it is high in Fibre and Vitamin C and low in Calories. It is good for bone health as it has Calcium and aids digestion.
Humans do not have the enzymes required to break down fiber, therefore it cannot be absorbed as calories. Fennel provides 7 grams of calorie-free, filling fiber.
Fennel can help lower blood pressure and inflammation due to its high potassium content and low sodium content. Potassium works against sodium, helping to fight high blood pressure.
Fennel is also said to help with Menopause, Heart Disease and Cancer. It truly is a vegetable you should try to grow in your garden
Get your Free Grow Fennel – Quick Grow Guide – here
If you enjoyed this herb guide you can find more from our Snapshot and Snippets Herb garden
Sign up today for Snapshot and Snippets weekly newsletter and get exclusive recipes and gardening hints and tips and free Garden Printables.
SIGN UP TODAY FOR FREE GARDENING PRINTABLE
This image is Pinnable —-Please share :—>