It is April in the Organic Kitchen Garden. Spring is finally here, although winter is occasionally threatening to come back. I finally have some worthwhile updates in the garden. Every month I hope to let you know what is growing, what my plans are and what is not working too.
April in the Organic Kitchen Garden
The garden has finally dried out and I able to get out to my Spring Crops. Planted in Sept/October last year I have Garlic, Perpetual Spinach, Kale and Spring Cabbage.
Goodbye Kale
We made the final harvest of the Kale. I am so sad to see this crop go and it has been such a great addition to the garden. You can learn all about growing Kale here.  I have left one Kale to go to seed, apparently, bees love the flowers and I want to get seeds from it
We have started off some Kale seedlings for this year and they are growing strong indoors.
Spinach galore
Last year I started growing Perpetual spinach. Perpetual Spinach is actually a chard from the Beet family but is very similar to true spinach in flavour. We prefer it as it is much easier to grow and far more vigorous than true spinach. It also has the advantage of constantly producing a new crop when picked and so is ideally suited to gardening in a small space. It is actually a Biennial but best grown as a Hardy Annual. The name Perpetual comes from the fact you can cut the leaves and it will produce more and is a great winter crop.
Our Spinach has provided food for us and the rabbit since last October and I will definitely grow this plant again.
Get a FREE quick grow guide to Perpetual Spinach here 
Garlic is breaking my heart
I struggle with Garlic and I am not sure why it is meant to be an easy crop. But this winter my garlic bed flooded and I lost so many to rot. I think I have about 6 plants left. The garlic that is left looks healthy enough. But lesson learnt, make sure your bed is not waterlogged for months on end.  Next year I will try them in a different location!
Spring Cabbage is Springing 
Planted last Autumn these cone-shaped cabbages bring a nice Harvest in Spring
Spring cabbage has a short harvesting period and needs to be cut before they run to seed. Spring Cabbage is a more conical shape than round Summer cabbages so they may be ready before you think they are.
Harvest cabbage by cutting the stem with a sharp knife close to soil level. Cut a deep cross in the remaining stump you will get a secondary crop of mini cabbages from the old stem.
I am harvesting these cabbages from now until May.
First Sowings in the Garden
I finally braved a few sowings in the garden. We have onion sets in and Spring Onions.  Three rows of Carrots which are looking good. And last but not least radishes.
The Potatoes are in Potato Bags
Finally, the potatoes are in their bags. I choose potato bags this year for two reasons they take up less space and I can move them into the greenhouse if the wintery weather returns. I made a video to help you grow your own.
.
And I potted up a Strawberry Tower for this year's crop as my old bed needs sorting out.
Strawberry Planter Planting Instructions
Use either p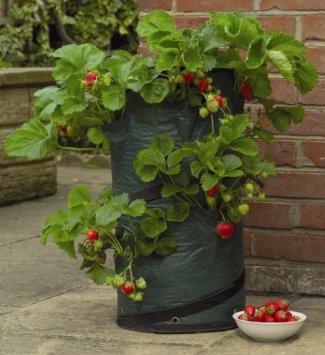 otting compost or well-composted garden waste.
Add compost to the planter up to the level of the first planting hole and firm gently so that it does not sink later.
Position the first plant so that the crown is clear of the compost and outside the planting hole. Pot-grown plants are best put in place from inside the planter.
Add further compost up to the next planting hole, firm it and repeat the planting process.
Continue until all the holes are filled and add 1 or 2 plants to the top of the planter.
For best results buy good quality strawberry plants, planting several varieties can extend the cropping season. Grow them in a sunny sheltered spot outdoors.
Strawberry Planter Growing Hints
Use anti-bird netting to protect the ripe fruit.
Remove any runners that are produced as they weaken the plant. They can be pegged down in pots of compost to root before removal if more plants are required.
Strawberries crop lightly in the first year but much more heavily in years 2 and 3. It is usually recommended that new plants are used after 3 years.
Cut off all foliage when fruiting has finished to ensure no carryover of disease.
There is still a risk of frost so move the planter into the greenhouse or cover with fleece if frost is forecast,
April in the Organic Kitchen Garden Greenhouse
The lettuces are doing well and the Oriental greens planted last September are going wild. I will be removing them soon to make way for Summer planting.
Planted this week in the greenhouse
Early Russian Cucumber – Short to medium fruit mild and sweet and crisp in texture. It crops over a long season and is hardy and will grow outdoors.
Beetroot – Detroit – Smooth and rich red skins and is high yielding
Gherkins – This is an outdoor variety ideal for pickling – looking forward to these
Two types of Spinach – Amazon and Perpetual  
Butternut Squash – Hunter – Bred for the Uk and Irish climate
De Nice Rond – Courgette – A cute round green Courgette
Golden Courgette – A yellow courgette variety I have had before.
The Tomatoes, Peppers and Aubergines are all in there second pots now and growing well. I am using coir posts as they are biodegradable. Hopefully, it is warm enough for these crops now – time will tell.
Also if you are just getting started with your vegetable garden Lidl have a great offer on at the moment – every time you spend €20 you get a free seed pot with 20 varieties to collect. So far I have Beetroot and Parsley. I love this campaign they are running it is all about healthy food and is aimed at kids. It is a great way to get kids involved in the garden.
There is still lots to do in the garden, the grass needs mowing and my Rhubarb needs harvesting for tonight's dessert – Almond Strawberry Rhubarb Pie. 
I will leave you some more posts to help you get into the garden and grow
If you want more guides to gardening and weekly access to the garden sign up for Snapshot and Snippets below
Share this post if you like it ====>